Interview Preparation
In this episode of the Alumni Speak series, two of IETs young achievers talk about corporate interview preparation strategies and tips. Shruti Joshi (EC 2020) and Jagriti Tiwari (CH 2022) speak about their experiences cracking Amazon, Google and Hindustan Unilever interviews.
This episode follow naturally after previous episode on CV/Resume preparation where Mausami Arora (CS 2007) spoke about CV preparation in depth. These two episodes should be watched together provide a solid end to end coaching on how to write a good resume to catch recruiters attention and then once you have done that successfully, how to nail the interview to convert it into a job offer.
Speakers
The speaker for this session were:
Shruti Joshi (CS 2020)

Software developer at Google. Previously at Amazon.

Jagriti Tiwari (CH 2022)

Selected as Executive Trainee at Hindustan Unilever
The event was moderated by Divyabh Tyagi (ME 2009)
Shruti Joshi (CS 2020)
Currently working at Google as Software Developer
Worked at Amazon prior to joining Google.
Area of Expertise:

Robotics
Full stack development

At IET, Shruti was part of the Robotics club
Her hobbies include painting and listening to music.
Jagriti Tiwari (CH 2022)
Current student of IET
Selected as executive trainee at Hindustan Unilever
Area of expertise:

Heat Transfer
Oil and gas industry

At IET, Jagriti is a member of Parmarth and former member of Josh
Her hobbies include reading and dancing
Slides
The slide deck used by the speakers can be downloaded by clicking the image below.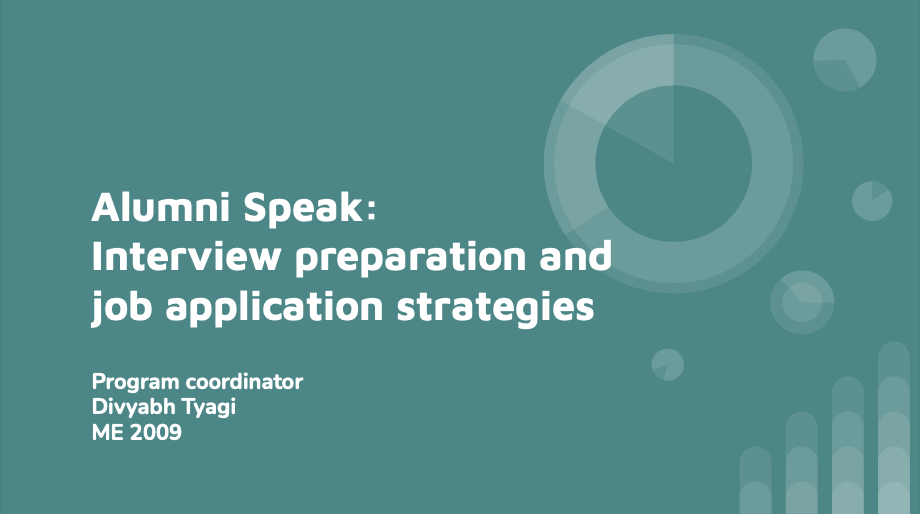 Video Recording
The event was recorded and is available for viewing.
Pearls of Wisdom
We extract the hightlights of the talk into smaller videos so that viewers can get the most important nuggets of wisdom shared by the speakers without going through the entire talk. We call these digest vidoes "Pearls of Wisdom".
We will release the Pearls of Wisdom shortly!
Posters
The awareness posters used to advertise the talk are archived below.